Industrial workbench is a product designed for workers assembling and testing products, serving the majority of companies assembling electronics, assembling components and product details. There are many different designs and materials, from simple to complex, to meet different production and processing departments of the factory.
Materials for the production of working tables
Stainless steel: use stainless steel 201 or 304, called stainless steel working table
Profiled aluminum: called profiled aluminum work table, profiled aluminum table
Steel: called steel frame work table, steel frame table
Plastic coated steel pipe: called plastic coated steel pipe working table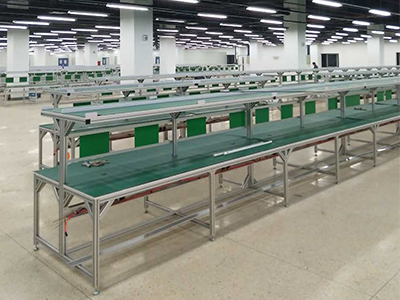 Structure of industrial working table
– Table frame: is the material that makes up the working table such as: steel, stainless steel, profiled aluminum, plastic coated steel pipe, …
– Table top: most use 17mm MDF with melamine coating on 2 sides, anti-static rubber mat can be glued or not. Some aluminum-framed tables use stainless steel countertops, steel tables use powder-coated steel surfaces,
– Extra parts: there are desks with extra small side tables, drawers, lights, or document cables, etc., depending on the necessary production parts, there will be specific requirements.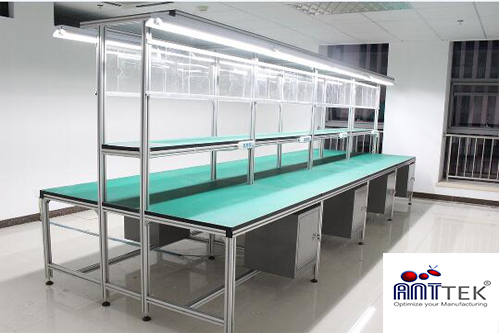 Anttek Vietnam designs and manufactures many different models of worchben tables for many electronic companies, assembly companies in Vietnam. Almost each product, each company has a different size and model, so there are no specific standards like office desks.
Therefore, to get a quote for the workbench, customers contact Anttek Vietnam's technical department via hotline 086 998 2628, along with the length, width, height, and other requirements (if required). Yes). Anttek Vietnam will make the earliest quotation to send to customers, with the most competitive price.